DH is listening to Japanese oldies, very old indeed. We just watched The Great Yokai War on VCD, coz it was cheap. Now he's in the weird mood. :P Anyways, I wanted to do a photo post coz I've received 2 fabulous swaps, made some stuff & had some discoveries....


I received my spanking old/new necklace by
PetitOiseau
& totally love it! Its a very very adorable vintage Pink thimble on a delicate chain with a tiny clear bead. Now I'm officially a sewer, like it or not....
I'm a big fan of Vintage everything.... and have recently made a discovery! Etsy has a huge untapped source of super designers with an eye for gorgeous jewellery pieces made even better with add-ons!
luxedeluxe
has a big collection of really pretty pieces I can't keep my eyes off of, I'm totally in love with
this
& don't know why, & recently bought
this
after much much contemplation but had to have it (sleepless nights! esp after her pieces started flying off!). I'm cleaned out for the month! Jordan from
OpulentOddities
is really really special. I liked them all with one visit to her shop. Doesn't happen very often! Gorgeous pieces with stories behind! I can't wait for my Wonderland necklace to arrive....
My swaps received from Isabella, France! She sent me a huge box of goodies! Unfortunately the box of choco has been cleaned out by me. :PI'm 5 pounds heavier and 10 pimples uglier. sigh! She really made a ginourmous effort for me! I've also gotten my really cute package from Kellie in USA! & my really beautiful swap from the equally beautiful
Hazel
! Gotta love the cute fabric, precious bag of great buttons, that cute squirrel & pretty ribbon! Thanks you guys! ;+)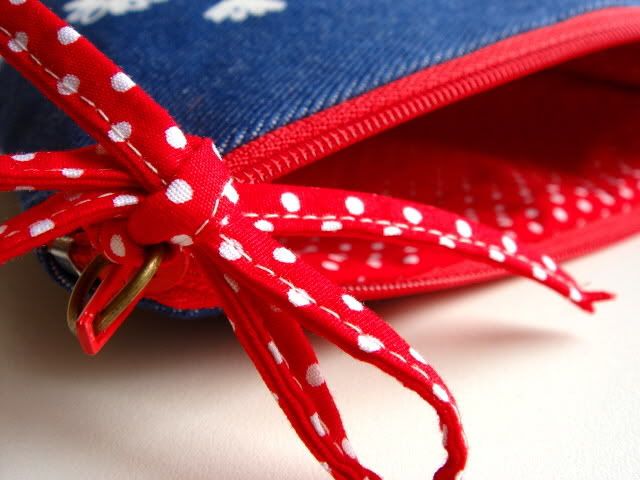 Can you guess what this is?! Yeap! THE Au Jardin necessity pouch! I'll be listing it after the ginormous tote & the matching pouch gets grabbed so go ahead, grab them! Though, I'm seriously gonna miss them...I love the Au Jardin series coz its really one gorgeous fabric! From Japan, its printed with garden silhouettes, french sentiments & its unbelievably soft for denim! Oops....too much advertisement! I'll let the owners of the series speak for me then! hee

Did someone say Mushroom!? LOL I'm a big fan...I like smelling them, looking at them, eating them, designing with them, making up utterly cute purses from Shrooms! I've been hoarding this fabric forever! It was soooooo expensive I can't bear to use it! Its a Japanese retro production, gorgeous print on canvas, no less! Its vibrant, catchy & irresistible! I made it into an oversized wristlet, 8" by 5", with card pockets inside so you can use it as a wallet if you like. Just throw in one of those Mini Zippereds and you're ready! Will go on
etsy
soon. Check back or bug me for it. ;+)
Currently still busy with everything! Packing/posting, shopping, eating, designing, sewing, blog-bitching, etsy-listing....the list is endless! I totally love my life, no 4x4 feet box with boring paperwork for me! LOL We're going to Sentosa for a bit of a break & some fun on Thursday so more til then! ;+)