How time flies... DH will have to leave soon and I'll be reverting to singledom for the rest of the year. Hopefully I might actually manage to scrape enough to see him during winter break in June/July. Well, there are good and bad sides of it. I'll have more time for fabric-ing, designing, blog-bitching, photo-taking (DH got me Lomo Fisheye2 4 Christmas!), shopping, reading & general lounging. On the bad side, there's always the loneliness. I'm got used to having someone around while I sleep so somehow sleeping alone is something I can't quite get use to. Spending 4 years in Sydney together was one of the best moments in our lives. The freedom to do mundane yet fun things like grocery shopping & home chores somehow made us feel like adults. Coming back here where everything belongs to our parents somehow made us feel like kids again. I don't dread the occasional nagging but I fear living with the parents makes me lazy. I miss Sydney a lot. Things are prettier there. The chilly weather also makes everything look better. With the seeding heat & humidity, we don't enjoy anything anymore, however beautiful it is. Besides, there isn't a day gone by where I don't cringe at the awful Singlish used here. If there's one thing I dread, its my roots & the awful weather. I wanna run away from it all but I can't. Accepting it? Yes. Though, it doesn't mean accepting the awful language & behavior. Just yesterday when I was going to the tailor's with DH, there were several instances where I got plain leering stares from men. Not the decent shirt & tie types, the ones you'd see in the back alleys, wearing god-awful polo tees that makes me cringe everytime I think about, those that you'll not want to meet when you wear short skirts or a plunging neckline. Its not what you'd think. I wasn't even wearing anything short or revealing. I was wearing all black, tailored slacks with a loose cami top & cropped jacket. I have no idea why do people do plain stares here. I have never encountered this in Sydney. I think its plain rude to do that.

There, my 2 cents worth.

My stuff have been flying off the shelves and I thank everyone who has pitched in or thought of doing so to ensure I don't continue eating with lewds at the back alleys or having instant noodles with water at home. My Visa bill has currently shown its very ugly face so I'm going to have to lay low for a while. No extensive shopping. I wanna hide under the covers when I remember how much I've spent at 2 online fabric shops just last week. Those were simply too good to miss. Oh and the trips to Daiso.....*cringe* I swear not to go out after DH leaves on the 25th.

Anyways... I made something very special a couple of weeks ago and thought I'll list it sometime. Its from the Au Jardin fabric! I'm totally in love with the fabric coz its the softest & smoothest denim I've come across in my life! I made a ginormous market tote out of it!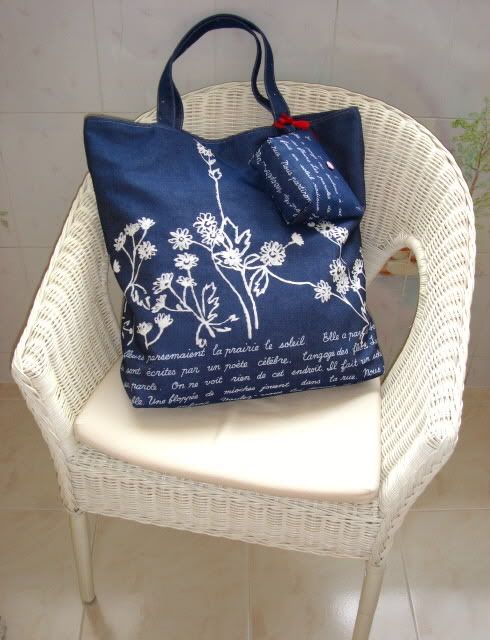 I'm personally pretty proud of it! You can hurl loads of stuff in this when you visit the markets! To photograph this, I actually have a big lounge pillow stuffed in it with space on top top spare! Lovely garden silhouettes with lovely French sentiments at the bottom. How much better can it be? This time its a total inspiration from the fabric itself! I saw it and thought I have to make this. The handles are from the same lovely soft denim with speckles of dandelions intermittently printed on it. Soft yet strong red cotton twill inside with a lined zip pocket. I figured with a purse this bag, you're gonna need a place for your wallet & keys. The zip pocket itself is 8 inches across, almost like a pouch itself! I'll be putting it on etsy very soon. If you'll like to request for it earlier, just drop me a line.




Lady Daisy, one of the most popular girls in my shop is making 2 final appearances before permanently retired due to lack of fabric. I can't put a word to it but this fabric feels like your favourite bedshirt without the daggyness. Its pretty, vibrant yet soft without the awful gawdyness. I'm not a big flower fan, but I had a dress made out of this fabric 2 years ago and still love it. As usual, a pearl button adorns it.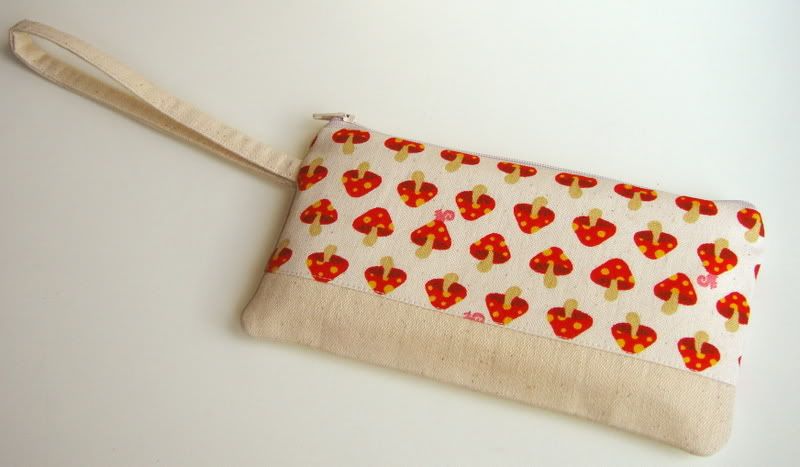 Mushroom Mania! Its a small wristlet this time. I had just that tiny piece left & didn't know what to do with it to ensure it doesn't get wasted. It is afterall my favourite & its rare and coveted by anyone who laid eyes on it! I coupled it with the very lovely weaved oat milk thick denim, similar to the Mushroom Mania tote at my shop. Its the only one!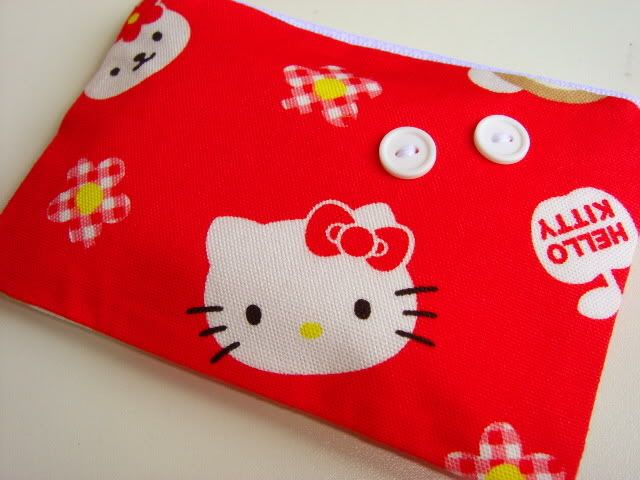 Its Hello Kitty again! Just a couple more before she'll be retired too! That very same lovely Sanrio fabric! Up on etsy soon.....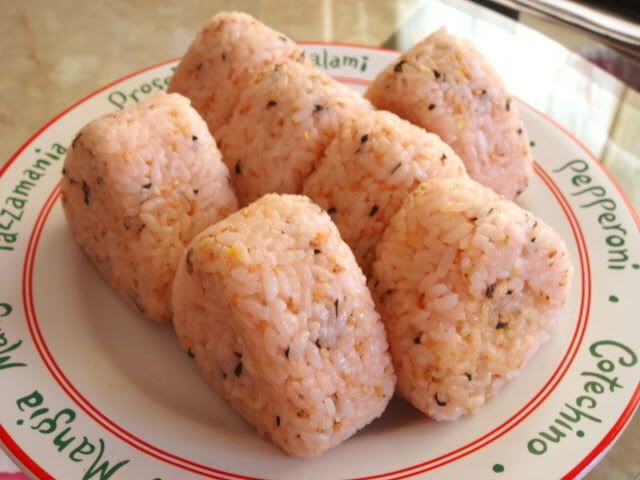 Last but not least, I made Onigiri for DH! Didn't realise it'll turn out to be so perfect! I'm not a good cook but DH said it was good so I guess its all's well end's well.....

Tune in soon for more utter crap about my life!