I'm so bored of costing (paper on wed) so I thought I'd be good and actually post something about stuff that happened in my life. There was a good sunset the other day so I took a picture. I live in an apartment block but there's this private apartment thing in front of my building that came up couple of years back. I've always hated that it blocked the view. The scarcity of land here has made us little more than chickens in a chicken coop. I'm constantly jealous of Christine and Hazel's homes. :P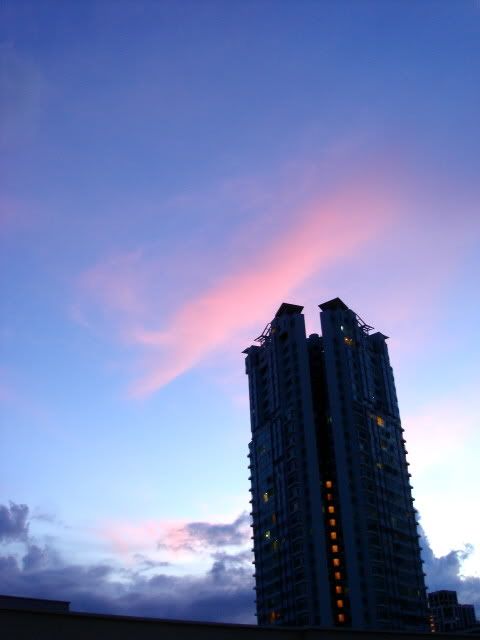 Oh and I was in this Etsy Secret X'mas swap thing and a lovely box came for me last week. I forgot all about it untill I opened it! There was a very very lovely brooch from
brokenplates
in all green packaging! It was so lovely and the whole thing was sweeten up futher when I discovered a big box of choco dipped pretzels~! I ate the whole thing in a couple of days and I swear something about the salt and choco that goes so well together! I was hooked but then I was down to the last pieces. I promise I'm going to learn the recipe and make some myself. Here's a pic of the brooch though. Isn't it classic yet quirky?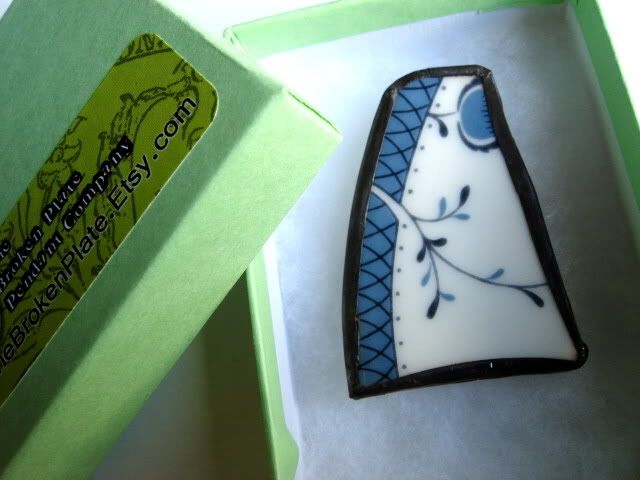 Speaking of Christmas, I have an early gift! DH bought it for me after he caught me staring at it for days. He swore I was drooling. I denied it. Anyways, I'm a total sucker for transport so i really couldn't pass up this one although I didn't want to spend on toys since I needed the money for fabric & supplies. Its a very adorable bus with candies inside. Its the yearly Candy Cabinet thing Sanrio comes up with. It was such a great day! I got it like a day before my 1st nightmare paper. I wished I could say its a motivation but after those 2 killer paper days, I don't think its right to use that word anymore. Don't ask. Pictures!

The exams. Held at Expo, a freaking huge convention centre, far east of Singapore. It takes me a whole hour just to get there. And we all have to make this very long walk to the hall. All the time I was thinking to myself over and over, Dead Woman Walking. It wasn't nice. Maybe a bit like the Jews. I watched Schindler. No offence to real Jews though. The stress was so great I couldn't produce during most of the exams. I'm just not the exams kind. I prefer essays & projects, where people do the sane thing by taking time to read, analyze, and come up with a fabulous solution. Not trying to cram a phonebook in a couple of months, hoping to remember as much as one brain can, culminating in a 3 hour paper where one prays that the stuff we can't remember won't appear in it. Its utter crap and inhuman. Who really benefits from such an examination and actually prepare one for work life? I think not. Let's look at the gloom anyways...

In the other news, I got really stressed and started shopping a lot. Apart from my load of fabric last Sunday, I got 2 new Decole stamps and they came really quick, although I got overcharged on shipping. Its a pet peeve of mine but I really hate it when I'm overcharged. I guess I'm going to have to live with it until I can find someway to swim to Japan and beg them to take me in as an asylum seeker. :P The white guy on the left is actually new year sticky rice cake for new years and the red guy is a daruma. But we already know that. Decole made is so much cuter so its impossible to resist. Sigh. They made friends with Santa Decole so I took this new family shot on the cute mini chair I bought at Daiso on Saturday. I should be banned from that store. The next shot shows a fraction of my goodies. I have more at
my Daiso group on flickr
. ;+)
Last but not least! My stumpie, new best friend, confidante, yoga/meditation teacher. Came from
LOF
, my fav store in the world! He's posing here with sheep who loved him the moment he came out of the box. "To hell with my owner!", he said. Lousy guy. I sent this pic to Lynda at LOF and she loved it.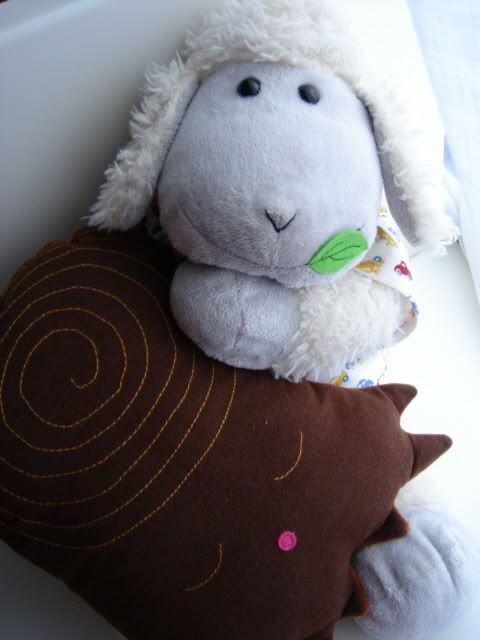 New minis coming up! All lovely delectable designs, hand selected, designed and made one by one lovingly!
Grab one today!